By Shiva Aronvi
I wasn't looking forward to leaving my quiet patch of Oxfordshire greenery to take the train into busy, noisy London on a hot summer afternoon.
The reason for this trip? Visiting Richard Ratcliffe. Someone I had previously only seen on Good Morning Britain or BBC Breakfast talking about his imprisoned Iranian wife. The agony in his face visible caused not only by the detained and sentencing of his wife by the Iranian regime but also by their refusal to issue him a visa so that he can go to Iran and see his little girl, Gabriella.
My curiosity regarding Nazanin and Richard's predicament was not prompted just by the unfairness of a collective punishment enforced on a whole family or even the macabre thought that this could have happened to me and my English partner. It was how Richard and the British government kept pleading in a calm and rational manner with the Islamist regime. If it is one thing I knew about the mullahs in Tehran is that they never respond to logic, only to action.
I was unfortunately right and Nazanin was not released.
My distant interest in this case was intensified by the arrogant and obnoxious behaviour of the Islamic Republic's Ambassador to the UK, Hamid Baeidinejad. He took a disrespectful posture towards Richard's (and Nazanin's) plight, not only by refusing to accept responsibility, but by playing the victim, as if his rights had been violated; as though he was being kept away from his wife imprisoned on trumped up charges.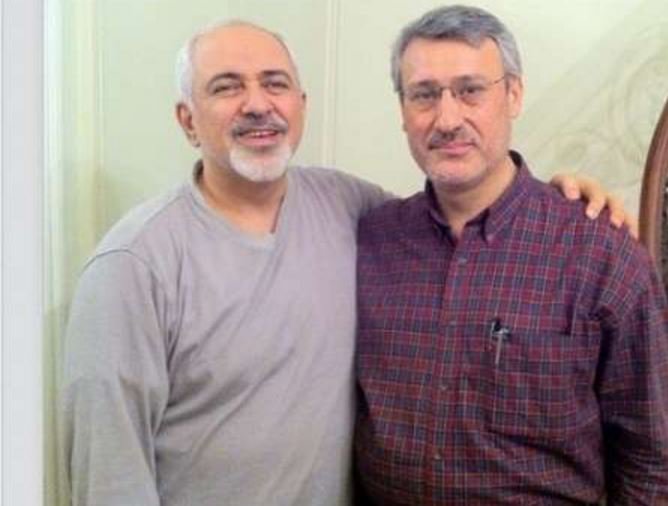 I had my first online encounter with Mr. Baeidinejad a while back where I fired off a polite comment on Twitter, querying business opportunity given by the Islamic Republic to the assassin of former Imperial Prime Minister, Dr. Shapour Bakhtiar. He responded by blocking me!
Blocking critics (and reporters deemed too critical) seems to be a common tactic of Mr. Baeidinejad. While the Islamic Republic assassinates its critics and opponents, its ambassador blocks them on social media.
What has vexed the Ambassador greatly about Richard Ratcliffe is that he cannot remove him out of his sight. Richard is literally outside of Baeidinejad's office every day.
The embassy has tried to humiliate and put pressure on Richard and Nazanin. They have put up barriers outside of the embassy's entrance (which is not covered with notes of sympathy) to prevent any potential encroachment. In Iran, the regime has restricted Nazanin's weekly visits with her daughter.
Mr. Baeidinejad has on the one hand dismissed Richard's protest as a UK domestic policy dispute between him and Boris Johnson and on the other, rejected Jeremy Hunt's diplomatic status given to Nazanin.
This was a golden opportunity for the face of the Islamic Republic in the UK to show a diplomatic, pragmatic and most importantly, a human side and engage with Richard. Mr. Baeidinejad could have scored many diplomatic and humanitarian points by acting as an intermediary between the Ratcliffes and the Iranian government. It would have raised his standing and made Europe and the UK more inclined towards a regime that is finding itself increasingly isolated.
He could have been a diplomat, but alas, a leopard never changes its spots.
Here, I shall share some photos, as well as a video clip I recorded in front of the Islamic Republic's Embassy.
---

Dr. Shiva Aronvi is a Iranian-British dentist and sociopolitical activist based in London, UK.